As a leading indicator, the Transportation sector is generally considered a canary in the coalmine of the greater US economy. When the economy is expanding, freight carriers, less than truckload freight shipping (LTL) and other carriers, are often the first to reflect that growth, as demand for their services ramps up. On the flip side, Transportation is often the first place where economic slowdowns appear, as manufacturers and other shippers see sales dropping off and need fewer supply chain services.
This reality broadly explains what's happening in Transportation circa 2023.
Following an explosion in new demand in the wake of the 2020 COVID-19 pandemic, the Transportation sector has seen a significant number of challenges for the better part of the last 12-18 months. This shift is partially due to the sheer size of the demand spike that rocked the supply chain a few years ago before eventually returning to normal trends.
The 2023 US Transportation Market Outlook examines the current state of this sector. It also provides insights on helping clients navigate this situation to ensure smooth renewals for the remainder of the year and a perspective on what to expect for the remainder of the year and in 2024.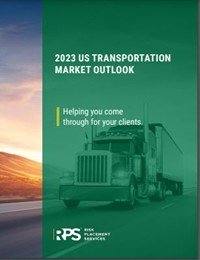 Get these key insights from the 2023 US Transportation Market Outlook:
Key factors affecting the segment, such as inflation, driver shortage and nuclear verdicts
The effect of data and technology on a capital-intensive industry
What to expect in 2024 and what you need to know before you approach renewal season
Get the full 2023 US Transportation Market Outlook to learn more.